This was a stunning portrayal of evil and abuse, perfectly balanced with hope and morality. This is my first book by Lisa Henry.
The writing is brilliant, perfectly paced to set the mood and tone; punctuated with italics and repeat phrases that underline and enhance the readers characters emotions. Superbly done!
Shaw arrives on the beautiful island to do a deal with a powerful drug lord. He has worked up to this moment for six years, dealing with the very worst humanity has to offer.
Shaw is a facilitator and procurer of
things
anything the upper echelons of evil might need. This deal will see him gain everything he has ever wanted and he burns for it's success, he needs it, craves it and will let nothing get in his way. Not even Vorni's new play thing; a dark haired green eyed broken boy who has his cock twitching. Shaw feels nothing for him, this insensible thing who is not to be humanised in any way.
When dealing with Vornis and the like what else should he expect, he has nobody but himself to blame for the situation he is in....right?
"Out of sight out of mind
While Shaw battles with the man he is was. The brutalised Lee holds a figurative mirror to his conscience.
'Out of sight , out of mind. Don't think about what they've done to Green-eyes"
I loved how the gorgeous Island setting is cleverly presented as a paradox to the danger it holds, not only the natural dangers, but the monstrous evils of the drug lord Vornis and his associates.
This picture symbolises both the characters for me. Shaw is depicted holding Lee, he is strong but questioning, unsure. Lee is broken but still standing...trusting. There is one thing wrong with this image, and it's the Colour of Shaws wings. You decide what colour they should black, grey or white.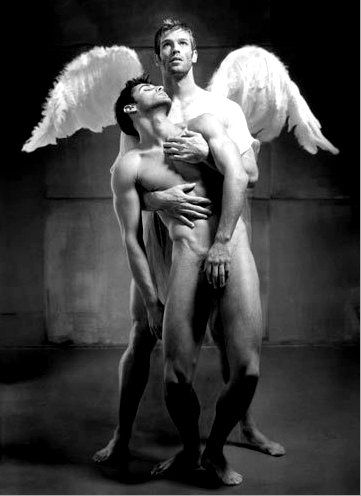 The first half of The Island is riveting and shocking, full of nervous energy, dread, awe, sadness and anticipation. You are instantly absorbed within the characters minds, there determination and fear the battle of conscience. The second half is a slow subliminal soothing the perfect balance and antidote to the first.
Please take note of the publishers warnings