Before I have a moan let me tell you about the story. (You can skip this part if you want)
Dean is a 35 year old lawyer and a player of note. He is a total chick magnet and never gets turned down, until he meets Evy and she is perfect, the one for him and he won't take no for an answer.

Evy has moved to a new city with her sister and brother- in-law after her 12 year relationship ends in betrayal. She is focussed on the family business and knows a player when she sees one, but the attraction is undeniable and too soon she succumbs to the practised wily charms of mister tall dark and handsome.

Little do they know that Deans past will come back to haunt them both and test the strength of their relationship to breaking point.
When picking up this book I decided I was going to stick with it no matter what. After two weeks of discarding book after book at the first annoyance, I realised I was never going to find anything to read if I carried on like that. So this was it, a little sexy contemporary romance which hinted at a little drama and angst. Perfect!
< (hidden for effect)
What we have here is an insta- love attraction which holds no merit. The main protagonists lack character development and the prose is littered with clichéd eye rolling similes with a couple crackers that made my toes curl.
Her hair is a chocolate waterfall and 'the most beautiful woman he has ever seen in his life' He is like a Greek god.
They stare at each other with star-crossed eyes <-- what does that actually mean? Because this is the image I get ...<br/>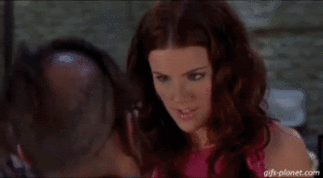 Their hearts swelling with something neither of them can explain Together they quiver with unbridled desire, chests heaving - communicating in a language more reserved for the wild. Cue: mental image of chattering monkeys.
Honestly the interaction with these two is just nauseating. Needless to say I was too busy cringing at the use of overly flamboyant adjectives to fully appreciate the relationship and chemistry between the two. I felt like I was trapped in a really bad Mills and Boons.
"...his erection searching for a way out of his jeans like a whale trapped beneath a sheet of ice."
The saving grace (kind of) is the side characters and humour. Dean's mates are seriously chauvinistic but you can't help laughing at the banter.
I found Evy's sister to be highly annoying in her pursuit of info regarding Evy's sexual exploits with Dean.
Her brother-in-law was hysterical.
When the drama comes there is a surprisingly different twist in the direction you think it will take. At this point if the writing wasn't so bad this might have has an extra star. I always like a twist. I can see the appeal, and about five years ago I might have liked it too.
Be warned though, this is book 1 of 2, so the cliff-hanger is inevitable, and no I won't be reading the next installment.
2 Stars, cause it was bearable...just.