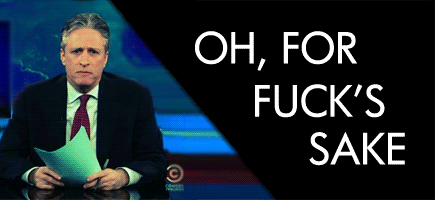 Who wrote this? Because Manna Francis got hacked, I tell you!
Toreth dressed in a leather thong, cuffs and a collar - I don't freaking think so!
I hated Toreth at that party, he's like a big fat kid in a sweet shop, no bloody will power. Yes, yes I know it's Toreth just being Toreth.
BUT I'M GETTING TIRED OF TORETH JUST BEING BLOODY TORETH!!
Warrick watching Toreth fuck someone else and just shrug it off? OMG REALLY???
What is wrong with you Warrick? You fixed a coffee machine and talked geek at a sex party while your ...whatever, is off fucking everything else!!!! I am so freaking DONE with you right now!
You know what really grossed me out? After Toreth dips his cock in every hole available, Warrick decides it's a good idea to suck him off!
ARE YOU SERIOUS??? GROSS!!!
I am so disappointed in Warrick...AGAIN!
You know what? I am just done in! That whole thing sucked! and I didn't even get started on the after scene where Warrick is left hanging...literally! Toreth, you weak, sick, selfish bastard...I HATE YOU!
I don't care what the score is. I don't care about who won that round. I just don't CARE! You both SUCK! You deserve each other...do whatever the hell you want. Someone give me just one reason why I should continue with this series. Just one reason. If not, I'm done...I'm over it!
PLASTIC FUCKING DUCK!