Sex, Drugs, Assassins and a War Torn Underworld…
I could roll around in it forever; but it gets even better when you throw in a drug war for violence; a sexy blonde porn star for spite; and an erratic anti-hero with a crap-ton of issues for every other feel there is. ALL this and I'm ecstatic! Santino Hassell is tripping solo after his brilliant collaboration with Ais on the "In the Company of Shadows" series and I really didn't want him to cock it up! With a recipe like this how could he?
I admit I was all flappy-hands-panicked when the writing felt a bit jerky at first, but as soon as the author kicked it up a gear with full body slams and the UST it just flooowed. Perhaps I got lost in Gordon Frost and the shit storm that surrounds him and forgot to notice. It's so easy to lose yourself when Hassell flaunts his greatest gift for vivid characterisation and world building. He evokes my fiercest protective instincts for his heroes and Gordon is no exception. I would gladly scoop out my heart with a medicine spoon and say: Here, yours is broken so have mine.
Oh Gordon my little orphan … he's so full of shit: so bad, so sexy, so vulnerable and so very exasperating. I couldn't decide if I wanted to kick him in the kidney, punch him in the throat or smother him in cuddles! The dude is such a fucking victim when he allows his promiscuity and addiction to Pandora to define him as insignificant. And men like Marquis (sexy bastard & sometime lover) and Chance (his boss) are all too happy to take advantage of the metaphorical "shit here" tattooed across his forehead. He drove me NUTS! But still, I would kill for him.
Bottom line is: Nobody needs rescuing like Gordon does.
Enter Adam Blake – dark secret assassin and sexy-sexy-sexy … like a Greek god, he's the perfect white dark knight.
"It's not your job to save me,"… "I don't need a hero."
"You sure about that? You're the most careless person I've ever met. It's almost impressive."
This is not a conventional romance. Ha! There's nothing conventional about this book full stop. The focus is all on Gordon, his connections with the Underground drug wars and his fuck-ups. The pace is fast and the atmosphere is electric but you'll probably feel cheated by the lack of Adam and Gordon page time, but by the end you won't even care. It's that good.
The absolute worst thing about this book is watching the progress bar creep toward the 100% mark and if you are a greedy reader like me, you'll want a more comprehensive conclusion – but I'm okay with it. I just hope Hassell decides to give us more.
If you've never read ICoS then this is a great introduction to this dystopian world. It echoes the type of gritty suspense, and unique characterisation that's omnipresent in ICoS but sadly there's not enough page time for it to be quite as magnificent. I still loved it. It's now a favourite with Gordon and Adam earning a coveted *snorts* place in my m/m harem. So read it!
4.5 Stars For Boys in our Books.
For giveaways and lots of fun stuff click here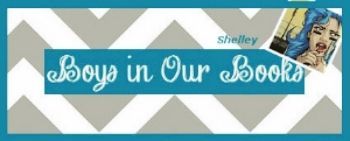 End Note:
If you've never read ICoS (I'm sorry for your loss): After Midnight is a spin-off and NO, you do not need to read that magnificent series first. After Midnight is set in the same Universe, that's all.
For those who have read ICoS. I KNOW you will be reading this book, but you need to read the author's note at the back which explains the timeline and the reworking of Gordon's character in Fade.
Enjoy!